As the park's namesake, Juan Rodriguez Cabrillo led the first European expedition to explore what is now the west coast of the United States. Cabrillo departed from the port of Navidad, Mexico, on June 27, 1542. Three months later he arrived at "a very good enclosed port," which is known today as San Diego Bay. —-SOURCE
We spent our wedding anniversary sight-seeing. Corny I know, but it's my life trip. I've been wanting to go to Cabrillo Monument. After my Zumba class in MCRD, we went further off Point Loma.
This is what I saw first when, we parked our vehicle. It was nice cool and breezy Saturday, nothing gets better than this. I love it!
Down below is where the tide pools were located.
This side of Point Loma used to be a military station. It's a natural protective barrier at the entrance of San Diego Bay. During World Wars I and II it provided vital coast and harbor defense system. A few steps down in this hill, there's a small cabin that they turned into a Coast Defense exhibit.
The slab concrete shown below was the fire control stations that helped batteries direct the gunfire.
Off we go to the lighthouse!
Old Point Loma Lighthouse
Completed in 1854, and in 1855 installed a Fresnel lens. For the next 36 years (except for foggy nights), the light welcomed sailors to San Diego Harbor. The lighthouse closed March 23, 1891.
No visitors were allowed on the light balcony. We were able to climb the spiral staircase that leads to a bedroom, attic and the lightbulb. It's a quaint little house on the top of the hill.
These are some of the stuff you can see inside. I'm happy that they were able to preserve the house. What I'm not sure of is whether, all the furnitures were from the 1800's.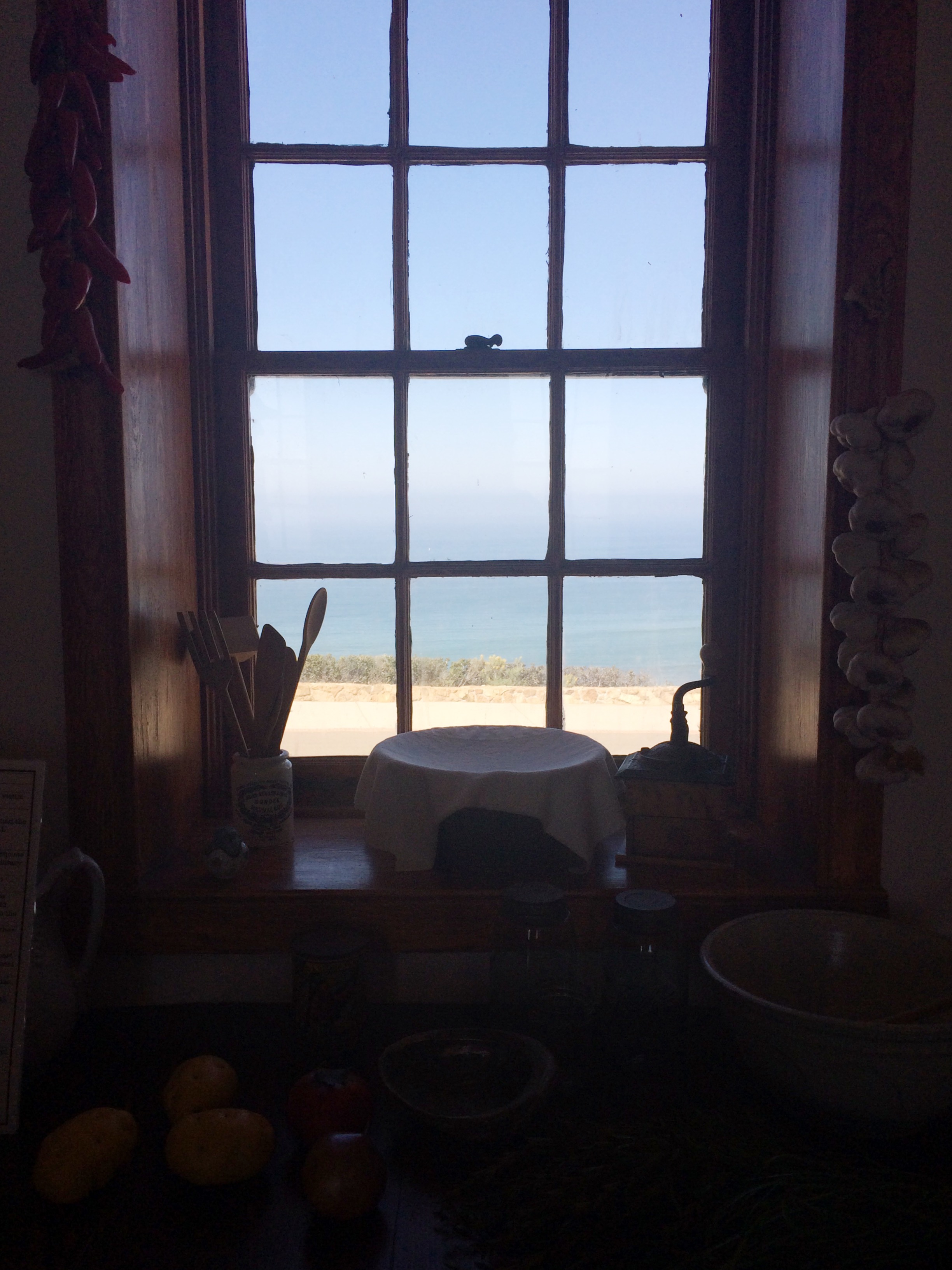 The assistant keeper's quarters (the building on the left) was converted into a lighthouse exhibit room.
On a side note, a crocheted centerpiece used as an accent for the display. Nice! I'm just wondering how old it is.
Cabrillo Monument
You can see from afar the Naval Air Station – North Island (that's where Seff works), the rest of Downtown San Diego and the Coronado bridge.
A few meters away from the lighthouse is the Cabrillo Statue.
A few steps away  from the statue is the  Visitor Center. The Cabrillo Store is located here as well, run by the Cabrillo National Monument Foundation. Once there, park information, exhibits and films are available to see.
After leaving Cabrillo,  I asked Seff to stop by  Fort Rosecrans National Cemetery. Another San Diego and California historical landmark that I don't want to miss. I want to admire the strategic geometrical placement of the tombstones.
For those who served the military and this country, you guys deserve this peaceful and serene resting place. Thank you for your service.
1/3
To be continued…